Tying the Knot on a Yacht
Matrimony has always been a joyous event for family and best friends. So how is it faring in covid times?
Here's a suggestion worth thinking about: A Minimony at Sea makes for a truly intimate wedding celebration. Tying the knot on a yacht could combine the ceremony and honeymoon into one.
Sea Suites come in many sizes.
Covid Creativity
Whether you desire a romantic sailing vessel or a luxury motor yacht, it may serve as the traditional hotel replacement and even take the place of the honeymoon suite. It becomes your floating sea suite.
Our couple – we'll call them Olivia and Noah – decided to cut the cost and increase the fun of getting married during a pandemic. Why wait? They coined it "Covid Creativity" and knew they could later tout their marriage in the family history books.
A Minimony at Sea combines a wedding, honeymoon and entertaining guests into an unforgettable alternative to a traditional wedding.
For our example, Newport, RI was their chosen destination. Our imaginary couple, shall we say, met at the famously fun Clark Cooke House. They decided to charter a motor yacht that would take up to 12 guests cruising for their afternoon ceremony.
Perfect Match
Their choice of the yacht was perfect! The 86' Ferretti M/Y SLAINTE III provides the ceremonial stage and the honeymoon suite as well. That she has a master king cabin on the main deck and is accessible to the forward deck, made it a perfect choice.
Waits Wharf Marina wasthe ideal location for boarding guests in the heart of downtown Newport. Keeping it very simple, there is no need for a rehearsal dinner, party favors, or flowers on tables.
86′ Ferretti motor yacht SLAINTE III with tender "Slainte" is Gaelic for health!
Casual summer attire was encouraged for a gay and carefree afternoon. The wedding officiant gathered the lucky invitees to the exchanging of vows. There was a champagne toast while the onboard music played as they cruised the scenic Newport Harbor while enjoying a sumptuous wedding lunch.
Back at the dock, the guests departed at 4 PM. Olivia and Noah waived their cheerful goodbyes as they departed off the dock into the sunset.
Block Island was their first night alone, with a special dinner prepared by the chef.
Forward deck – perfect for tying the knot.
Scenic Newport Harbor
Wedding and Honeymoon Itinerary for 5 nights/6 days
Sunday Day 1 – Newport – 10 AM Couple boards SLAINTE III and settle into the Master stateroom located on the main deck, preparing themselves for the most important day of their lives.
12:30 PM – Wedding Day – The arrival of guests then set sail in Newport Harbor for a ceremony at sea.
4:30 PM – Off to Block Island for the first evening of the rest of their lives.
Monday Day 2 – Cuttyhunk Harbor for lunch – Menemsha overnight for the evening is magical. Going ashore is a must to experience this quintessential fishing village.
Tuesday Day 3 – Edgartown for a day of exploring. According to the article in Vogue 2018 "Martha's Vineyard Town Is Like the Hamptons Without the Crowds" Leave the Vineyard for Nantucket. The couple enjoys dining onboard while underway. The day was perfect.
Nantucket overnight evening
Wednesday Day 4 – Nantucket Day *Meet and play with friends who planned their summer vacation on land staying on land. Another celebration for the couple. Cocktails and light evening dinner served onboard, while enjoying their honeymoon yacht.
Thursday Day 5 – Morning breakfast served underway to Tarpaulin Cove for lunch and a swim. They spend their last evening in the Sakonnet Harbor reminiscing about their amazing Minimony at Sea.
Friday – Day 6 – Brunch served at 10:30 AM while heading back to Newport.
Costs: A wedding ceremony and dinner at a good hotel followed by a honeymoon could see a bill of $100,000. Our Minimony at Sea, including the extra friends celebratory cocktail reception on Nantucket would be doable for $60,000 including tip!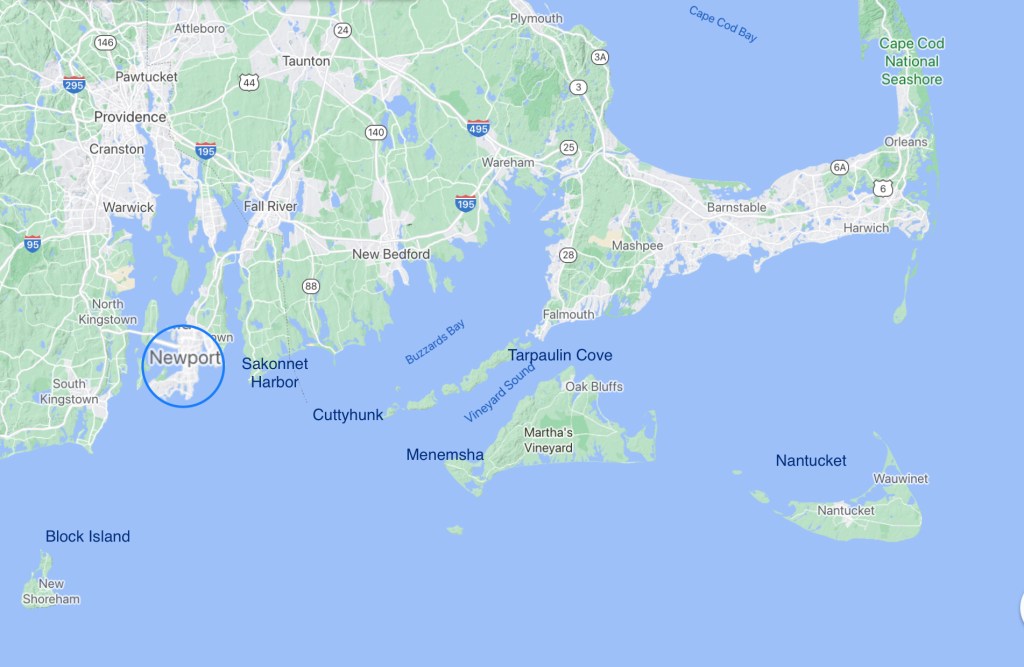 Newport Wedding and Honeymoon Itinerary
Click map to enlarge.